Pets & Animals Search – Tickets Available
3 total results
Sun., Sept. 30, 10 a.m.-12 p.m.
Benefits, Pets & Animals, Sports - Participatory
Make your next sweat sesh a whole lot cuter by joining the Young Friends of the Humane Society of Missouri at Pilates for Pooches! Tickets include an official event t-shirt as well as a one-hour beginner Pilates class taught by Danyal Timmermann, a certified Level 2 Stott Pilates, Core Barre and Juvo Board instructor. Don't forget to bring your own yoga mat for all the paw-lates fun! Animal lovers can stick around post-workout to enjoy a cold beer and mingle with some of the adoptable pets at the HSMO. Proceeds will go to the HSMO's Animal Cruelty Fund. $30 through Sept. 14th, $35 after
https://www.facebook.com/events/379536989247881/
Sat., Oct. 20, 11:30 a.m.-2 p.m.
618-781-4193
info@project-restore.org
Children's Events, Pets & Animals, Halloween
This October, furry, four-legged fundraisers will show off their Halloween best while helping provide educational opportunities for teens in need a world away. On Saturday, October 20, local dogs and their humans will descend on Edwardsville for Project Restore's 4th Annual Howl-O-Ween Dog Costume Parade. This annual event helps the nonprofit in its mission to address education, clean water and medical care issues in developing countries. Registration begins at 11:30 a.m. with the Parade to follow at 12:30 p.m. Cash prizes will be awarded for the pooch costume based on originality, creativity, behavior, and theme with owners. $20 to enter costume contest; free to watch
http://www.project-restore.org
Joe Glik Park
(map)
710 E Lake Dr
Collinsville/ Edwardsville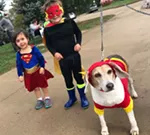 Sat., Nov. 3, 9 a.m.-12 p.m.
314-420-2045
racedirector@tenthlifecats.org
Benefits, Pets & Animals, Sports - Participatory
@ Tower Grove Park - Sons of Rest Pavilion, 4256 Magnolia Avenue, St. Louis MO 63110
Calling all runners, walkers and cat lovers! Tenth Life Cat Rescue is proud to present our 8th annual Hissin' Hustle 5K, 10K, and 1 mile Fun Walk. Tenth Life's mission is giving cats the lives they deserve. Tenth Life provides veterinary care, foster homes, and adoptive placement to stray cats and kittens, prioritizing those with special needs. All money raised helps fund our mission. Varies $10-$35 (See website for details)
http://www.fleetfeetstlouis.com/racing/highlighted-races/hissin-hustle
Tower Grove Park
(map)
4256 Magnolia Ave.
St. Louis - Tower Grove
314-771-2679
Showing 1-3 of 3 total results in this search.