Women's Events Next 30 Days
1 total results
Fri., Nov. 16, 9 p.m.-1 a.m.
314-621-6900
gutterglittertillyoudie@gmail.com
Adult, LGBTQA, Women's Events
One of the only spaces in St Louis, where male identified people are not allowed! Venus In Furs is the only lady identified exclusive BDSM night in St Louis. Come learn from experienced lady kinksters, take part in the open play area, and enjoy the best people watching around! VIF is a sex positive space for all people whose gender self-identification is other than male, and is a femme centered space. Folx are welcome regardless of level of experience. All such people are welcome. Racism, transphobia, homophobia, lesbophobia, biphobia, classism, ageism, size discrimination, have no place here. $5
https://www.facebook.com/events/526029824475189/
The Crack Fox
(map)
1114 Olive St.
St. Louis - Downtown
314-621-6900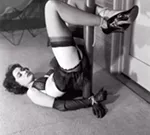 Showing 1-1 of 1 total results in this search.