Women's Events This Weekend
1 total results
Fri., Sept. 28, 7-11 p.m.
contact@tatasisterhood.org
Benefits, Food and Drink, Women's Events
Come waste away in MargariTa-Taville - Jimmy Buffett Style!!! Join the TaTa Sisterhood Foundation for a night of boat drinks, dancing and island style fun to help support the increasing need for Triple Negative Breast Cancer (TNBC) resources in our local community. We will be enjoying Cheeseburgers in Paradise on Friday, September 28th, 2018 at the Third Degree Glass Factory. Doors open at 7:00pm. Click the link below to purchase tickets and see a full description of the event. https://tatasisterhoodmargarita-taville2018.eventbrite.com/?aff=calendar 85
http://tatasisterhood.org/margarita-taville-2018/
Third Degree Glass Factory
(map)
5200 Delmar Blvd.
St. Louis - Central West End
314-367-4527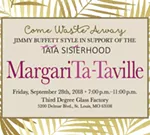 Showing 1-1 of 1 total results in this search.