Music Today – Tickets Available
2 total results
Thu., Sept. 20, 8-10:30 p.m.
314-726-6161
pageantinfo@thepageant.com
Live Music
Smith has amassed an unfailingly devout fan base, not only in his native Southeast region, but all around the nation, simply by telling it the way it is. He has released 10 albums—including 2011's Top 20 release The Broken Record. Corey has written every word on every album himself and he produced 9 out of 10 of the records.
http://www.delmarhall.com/event/corey-smith-092018/
Delmar Hall
(map)
6133 Delmar Blvd.
Delmar/ The Loop
314-726-6161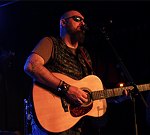 Thu., Sept. 20, 9-11:45 p.m.
hughvincentband@gmail.com
Live Music
The plot thickens on September 20th when Hugh Vincent entices you to go with him, deeper into The Vincent Scandal. Experience dark elements of modern art, spoken word, and performance alongside his wild original songs, performed live and raw, as a commentary on the occult of love, media, and the music industry. PRYR, the brainchild of Jazz/Hip-Hop recording MASTERMINDS, TheBlackBruceWyane and Tristano Beats, will be there! Join us. $7
https://www.facebook.com/events/229631604564567/
The Monocle
(map)
4510 Manchester Ave
St. Louis - The Grove
314-935-7003
Showing 1-2 of 2 total results in this search.