Holidays & Seasonal Tomorrow
2 total results
Sat., Feb. 23, 11 a.m.-5 p.m. and Sun., Feb. 24, 11 a.m.-5 p.m.
Mardi Gras
Mardi Gras' culture of excess is not limited to alcohol. Fat Tuesday is the last stop before the restrictions of the Lenten season take effect, so people avail themselves of these final days to indulge their sweet tooth, meat tooth, Cajun tooth, et cetera. Taste of Soulard, which takes place from 11 a.m. to 5 p.m. Saturday and Sunday (February 23 and 44) throughout Soulard (Allen Avenue and Menard Street), allows revelers to sample Mardi Gras-inspired delights from local restaurants. Your $25 pass gets you one drink voucher and six food vouchers. You're free to use them in any combination you choose at participating businesses. The menu is already online (www.stlmardigras.org/events/taste-of-soulard), and it's got everything from Tarte Flambe at Molly's Bar & Restaurant to the Sloppy Ds at D's Place. Note that some venues are only participating on Saturday, so plan wisely to avoid disappointment. $25
Soulard Neighborhood
(map)
Allen Ave. and Menard St.
St. Louis - Soulard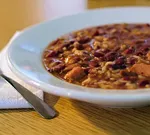 Sun., Feb. 24, 1 p.m.
Pets & Animals, Mardi Gras
The costume traditions of Mardi Gras are not just for humans, and the Beggin' Pet Parade is the proof. Beloved dogs who are comfortable wearing clothes, costumes or exotic outfits gather with their people at South 12th Street and Allen Avenue (www.stlmardigras.org/events/beggin-pet-parade) for the 1 p.m. parade of pooches on Sunday, February 24. It's free to watch, and if you believe your dog has the charisma and "wow" factor to be named one of the best-dressed pets on parade, it's only $10 to register a single canine; the judges will select the most gloriously attired dogs for the Court of the Mystical Krewe of Barkus at the Coronation Pageant, where the King and Queen of Barkus will be anointed with their crowns. Registration fees help the Open Door Animal Sanctuary. And if you have a need for speed, don't forget the Wiener Dog Derby, which always follows the parade and showcases the fastest dachshunds in the metro area competing for glory. Humans can flex their competitive muscles in the derby-hat contest, which challenges you to flaunt your best example of haberdasher's art. free for spectators
Soulard Market Park
(map)
Lafayette Ave. & S. 8th St.
St. Louis - Soulard
Showing 1-2 of 2 total results in this search.