Film This Weekend – User Submitted
1 total results
Sun., Nov. 18, 4-5:30 p.m.
314-367-0367
music@secondchurch.net
Film
Harold Lloyd stars in this comedy film from 1925 in the story of a college freshman trying to become popular by joining the school football team. This film is considered by many to be one of Lloyd's most successful films and in 1990 the film was selected for preservation in the United States National Film Registry by the Library of Congress. Andrew Peters provides live organ accompaniment to this 76 minute film. Free
http://secondchurch.net
Second Presbyterian Church
(map)
4501 Westminster Place
St. Louis - Central West End
314-367-0366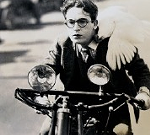 Showing 1-1 of 1 total results in this search.