Arts & Theater This Weekend
1 total results
Through Nov. 4, 10 a.m.-5 p.m.
314-725-6555
Arts
A selection of the skillful figurative work currently produced in the St. Louis region, including works from Nicole Cooper, John Hunn, David Ottinger and Victor Wang. Guest curated by Nancy Newman Rice. ALL AGES Free
http://www.cocastl.org/event/figures-fables-fiction/
The Millstone Gallery at COCA
(map)
524 Trinity Ave.
University City
314-725-6555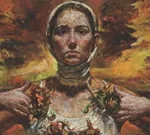 Showing 1-1 of 1 total results in this search.