Arts & Theater This Weekend
1 total results
Sat., Sept. 22, 8 p.m.
314-516-4949
ticket@umsl.edu
Dance
Tianjin Normal University (TNU), founded in 1958, offers programs at various levels and in many disciplines. The College of Music and Film is one of 23 colleges at TNU, with 1600 undergraduate students and over 100 teaching staff. The college offers programs in dance, music, and performing arts. The College's student performers have won many competitions in China, including the National Music Golden Bell Awards, the National Dance Lotus Awards, the National Youth Singers TV Competition, and the National College Students Dance Performance, among others. $20
https://www.touhill.org/events/detail/chinese-music-and-dance
Blanche M Touhill Performing Arts Center
(map)
1 University Dr at Natural Bridge Road
North St. Louis County
314-516-4949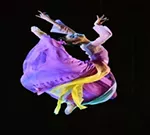 Showing 1-1 of 1 total results in this search.