Arts & Theater This Weekend
1 total results
Fri., Sept. 28, 8 p.m. and Sat., Sept. 29, 8 p.m.
314-516-4949
ticket@umsl.edu
Dance
Ten invincible dancers. Five "Best of the Best" original works. Two cutting-edge performances. An Experience you wouldn't Dare miss. $30
https://www.touhill.org/events/detail/madco-revival
Blanche M Touhill Performing Arts Center
(map)
1 University Dr at Natural Bridge Road
North St. Louis County
314-516-4949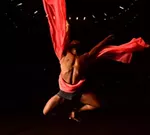 Showing 1-1 of 1 total results in this search.