Arts & Theater This Weekend
3 total results
Fri., Nov. 16, 8 p.m.-12 a.m.
314-776-2307
dekdekonstructiv@gmail.com
Arts
We welcome you to join Trader Bob's Tattoo and Dekönstructiv Collective as we kick off the 2018 St Louis Classic Tattoo Expo with an opening party and art show, featuring work by attending artists of the convention! All artwork will be available to purchase through auction - follow along at instagram.com/traderbobstattoo to bid on available pieces and be sure to stop by Mad Art Gallery to see them in person on November 16th! Free
Mad Art Gallery
(map)
2727 S. 12th St.
St. Louis - South City
314-771-8230
Fridays, Saturdays, 7-10 p.m. and Mon., Dec. 31, 7-10 p.m. Continues through Dec. 29
314-664-8024
Theater - Dinner
Join us for the Holidays and enjoy an exciting evening of murder, mystery and mayhem at the most dangerous comedy dinner theater show in town. Dig into a fantastic three-course dinner at the Famously Haunted Lemp Mansion and figure out who-dun-it! This may look like a festive Holiday Party for a family-owned, candle-making business but there is danger lurking beneath the mistletoe! Slimy characters, sneaky thieves, blackmailers, cheats and liars prowl around every corner and you oughta know since you're one of them! They're malicious conspiring reveals the true nature of Harm Enterprises…organized crime (shhh…don't tell Grandpa!) Seats are just $52.95 per person and includes a delicious 3-course dinner
http://jestmurdermystery.com/st-louis-mo/
Lemp Mansion Restaurant & Inn
(map)
3322 DeMenil Place
St. Louis - South City
314-664-8024
Sundays, 12-6 p.m. Continues through Nov. 20
314-260-1689
astlcomics@gmail.com
Arts
We're having an artist open studio! We're making an open invite to any local artist/writer that wants to come in on Sundays to work, promote themselves, interact with customers and help other artists improve their work. While you're here, we're going to give you 20% off your drinks. Tell your friends and we'll tell our customers. Free
https://www.facebook.com/events/2029209407338504/
Apotheosis Comics
(map)
3206 S Grand Ave
St. Louis - South Grand
314-260-1689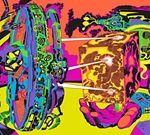 Showing 1-3 of 3 total results in this search.