Events Search – Staff Pick
1 total results
Sat., Feb. 23, 7-11 p.m.
Mardi Gras
Mardi Gras is not just a French celebration. Most of Europe celebrates in the final days before the beginning of Lent, and Italy is no exception. The Italian Community of St. Louis invites you to party with them at Carnevale Veneziano, a Venetian-style blowout that's also family friendly. Guests are encouraged to wear Venetian masks while dancing to the sounds of DJ Antonio Leone (he's flying in from Puglia, Italy, for the gig) and partaking of a buffet dinner. Wine and beer are included in the ticket price ($25 to $65, free for kids five and younger), and the organizers have a couple surprises up their sleeves as well. Carnevale Veneziano takes place from 7 to 11 p.m. Saturday, February 23, at Mad Art Gallery (2727 South Twelfth Street; www.eventbrite.com). $25-$65
Mad Art Gallery
(map)
2727 S. 12th St.
St. Louis - South City
314-771-8230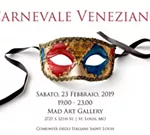 Showing 1-1 of 1 total results in this search.