Events Search – Tickets Available
2 total results
Saturdays, 6-9 p.m. Continues through Oct. 28
866-496-0535
stl.info@thedinnerdetective.com
Theater - Dinner
@ HoteLumiere at the Arch, 901 N 1st Street
America's largest interactive comedy murder mystery dinner show! Solve a hilarious crime while you feast on a fantastic dinner. Just beware! The killer is hiding somewhere in the room, and you may find yourself as a Prime Suspect! The Dinner Detective Murder Mystery Dinner Show performs weekly. We also offer private events & shows that are customized to your group with roles for your group members to play. Join us for a one-of-a-kind public or private event that your guests will talk about for months! $54.95
https://www.thedinnerdetective.com/st-louis/
HoteLumiere at The Arch
(map)
901 N 1st St
St. Louis - Riverfront
www.lumiereplace.com
Sat., Oct. 27, 8 p.m.
Live Music
Admission is free (upper-level seating). Ticket is required for entrance. Limited tickets available. Call the Edison Theatre Box Office (314) 935-6543 or follow the link below. In partnership with the Gateway Arch Park Foundation and the National Park Service with assistance from Guggenheim Productions Inc. Free (RSVP Required)
https://music.wustl.edu/events/monument-dream-film-showing-live-orchestra%C2%A0?d=2018-10-27
Gateway Arch
(map)
200 Washington Ave.
St. Louis - Riverfront
877-982-1410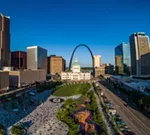 Showing 1-2 of 2 total results in this search.