Events Search – User Submitted
3 total results
Wednesdays, 6-8 p.m. Continues through Dec. 30
314-241-1674
info@elementstl.com
Pop Culture
Element Lounge hosts Tenacious Trivia. Come test out your pop culture IQ. free
http://www.elementstl.com
Element
(map)
1419 Carroll St.
St. Louis - Lafayette Square
314-241-1674
Fri., Oct. 5, 9-11:45 p.m.
314-221-7895
toddfdillon@gmail.com
This Just In, Live Music
Huht plays the legendary Way Out Club with master percussionist Kaleb Kirby & vinyl wizard Lord Soul. FRI OCT 5th Kaleb Kirby: inter-dimensional groove wasteland full of ethereal textures, rhythms and vibes. Lord Soul:: Veteran vinyl wizard with the finest and most far out selections of garage, psych, funk, soul, boogie, world and other. All vinyl, all the time. huht:: The St. Louis, MO based trio creates free-form, and improvisational-leaning music. Huht's sound focuses on a hypnotic simplicity that blends heavy percussion with a deeply moody atmosphere. The result is dark and rhythmic excursions with no self-imposed limits. $5
https://www.facebook.com/events/2396130190401094/
Way Out Club
(map)
2525 S. Jefferson Ave.
St. Louis - Lafayette Square
314-664-7638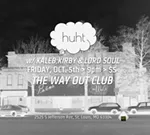 Third Saturday of every month, 2:30-5 p.m.
314-898-5444 314-285-2569
Prosperity.oteroprada@gmail.com
Classes and Seminars
Join proffesional artists, Andrea Kahrizma Hughes and Luisa Otero Prada to have a great time painting, sharing and experiencing Art ! Cash, Square, PayPal Call or Text to Register. $25
Showing 1-3 of 3 total results in this search.