Events Search – User Submitted
2 total results
Sundays, 12-6 p.m. Continues through Nov. 20
314-260-1689
astlcomics@gmail.com
Arts
We're having an artist open studio! We're making an open invite to any local artist/writer that wants to come in on Sundays to work, promote themselves, interact with customers and help other artists improve their work. While you're here, we're going to give you 20% off your drinks. Tell your friends and we'll tell our customers. Free
https://www.facebook.com/events/2029209407338504/
Apotheosis Comics
(map)
3206 S Grand Ave
St. Louis - South Grand
314-260-1689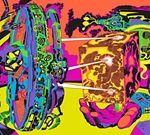 Sat., Oct. 6, 4-5 p.m.
Live Music
CaveofswordS brings dubwave to The Historic Shaw Art Fair, an art show spanning the 4100 & 4200 blocks of Flora Place during the first weekend in October. CaveofswordS plays a 60-minute set starting at 4pm on Saturday, October 6.
Shaw Neighborhood
(map)
4100 Flora Place
St. Louis - South Grand
314-771-3101
Showing 1-2 of 2 total results in this search.