Events Search – User Submitted
4 total results
Fri., Sept. 28, 6 p.m.
314-719-3579
AKaramehicOates@Fontbonne.edu
Literary Events
An internationally renowned scholar on human rights law and war crimes tribunals, Diane Orentlicher will be signing copies of her book Some Kind of Justice: The ICTY's Impact in Bosnia and Serbia in the Affton High School Auditorium. This event is free and open to the public and sponsored by the Bosnia Memory Project at Fontbonne University and St. Louis Bosnians, Inc. FREE
Affton High School
(map)
8309 Mackenzie Road
Affton/ Concord
314-638-6330
Sat., Oct. 6, 7-9 p.m.
314-822-8171
shcakouros@gmail.com
Benefits, Live Music
Javier Mendoza aka Hobo Cane, is the very definition of eclectic! He describes his music style, "I was raised among different cultures and languages…my songs are influenced and enriched by that diversity." Tickets on sale at Loft Gift Shop $20; at gate $25; children only $1; or by phoning 314-822-8171. Ticket price includes a Rocky Mountain cone. Bring lawn chairs/blankets. The Barn restaurant will open from 5 to 8 pm and will serve cocktails on the lawn. Proceeds support 210-year-old Historic Sappington House. $20 adults; at gate $25; children only $1; or by phoning 314-822-8171
Sappington House & Barn Restaurant
(map)
1015 S. Sappington Rd
Crestwood/ Sunset Hills/ Sappington/ South Lindbergh
314-822-8171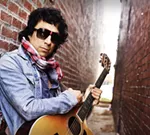 Sat., Oct. 20, 7-10 p.m.
314-821-0911
trivia@eliotchapel.org
Benefits
Eliot Chapel trivia night and experience auction at the Sunset Hills Rec Center. Doors open at 6:30 pm and trivia starts at 7:00 pm. Tables of 8 will enjoy complimentary wine, beer, soda, and water along with fun, games, and prizes of the night - bring snacks/food for your table. Guests enjoy eight rounds of trivia, an experience auction, raffles and more. Tickets are $25 per person or purchase a table of 8 for $200. $25 Per Person or $200 Per Table
https://www.eliotchapel.org/trivianight
Sunset Hills Community Center
(map)
3915 S Lindbergh Blvd
Crestwood/ Sunset Hills/ Sappington/ South Lindbergh
314-842-7265
Thu., Nov. 8, 7-8:30 p.m.
314-533-8586
nbachmann@academyofsciencestl.org
Lectures
Featured Speaker: Paul J. Bracher, Ph.D., Assistant Professor, Department of Chemistry, College of Arts & Sciences, Saint Louis University There is strong evidence to suggest life developed within the first half billion years of Earth's existence, and it has continued developing over the last four billion years. Chemistry professor, Dr. Paul Bracher, talks about what we know regarding the early Earth and explores research that tests ideas for the chemistry that might have jump-started the conversion of a mixture of non-living chemicals into living systems capable of evolving into life as we know it. Free
https://www.academyofsciencestl.org/event/how-did-life-originate-on-earth/
St. Louis County Library-Grant's View Branch
(map)
9700 Musick Rd
Affton/ Concord
314-994-3300
Showing 1-4 of 4 total results in this search.