April 15, 2014 Slideshows
Athlete Eats Serves Healthier Options on Cherokee Street
Lusky and his wife, Angelica, started making prepared meals for clients two years back out of their home kitchen in south St. Louis. Eight months ago they moved into their Cherokee Street storefront and realized that the space, with its commercial kitchen, begged for a café. So in February the Luskys enlisted the help of their colleague, chef Ben Brazell, to expand their business to include fast-casual breakfast and lunch offerings. Like their prepared-meal clients, the dine-in customers want locally sourced, health-conscious fare as well.
Keep reading:
Cheryl Baehr's review of Athlete Eats
.
Photos by Jennifer Silverberg for the
Riverfront Times
.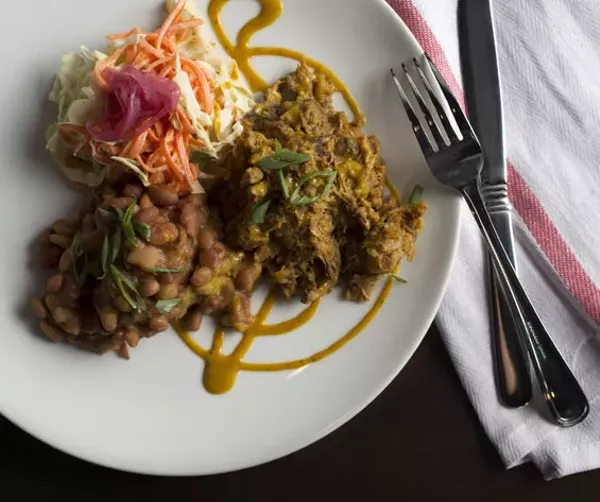 The pulled pork shoulder is tossed in Carolina barbecue sauce and served with baked beans and slaw.
Bibimbap bowl, made with caulirice, spicy shaved grass-fed beef, edamame, pickled carrot, and shitake mushrooms.
Chef and partner Bob Brazell.
The local grass-fed beef burger with cheddar, chive aioli, veggies and kale chips is periodically the special of the week.
Athlete Eats owners Simon and Angelica Lusky.
Hearty winter salad, made with Brussels sprouts, roasted butternut squash, carrot, parsnip, dried cranberry, toasted pumpkin seeds and rosemary-garlic dressing.
Inside Cherokee Street's Athlete Eats.
The pork chile verde is made with smoked poblano peppers, onion, garlic, ground pork and spices.
Inside Cherokee Street's Athlete Eats.
The "Berry Bright" smoothie.
Inside Cherokee Street's Athlete Eats.
Front-of-house manager and baker, Bridget Buyna.
Athlete Eats on Cherokee Street.