August 04, 2009 Slideshows
Back of the House at Ranoush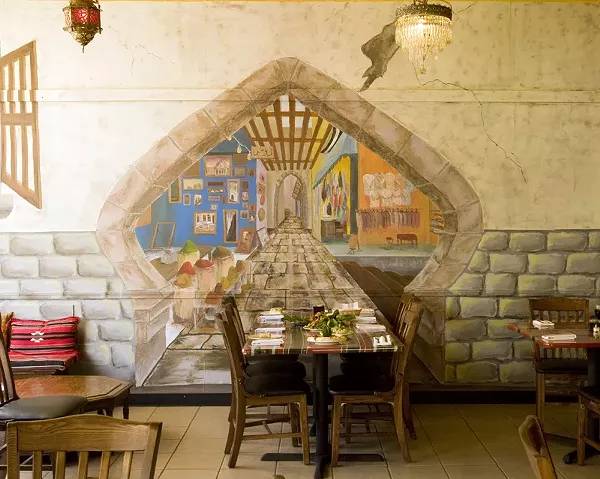 The interior of Ranoush, located at 6501 Delmar Boulevard.
Owner Aboud Alhamid pouring a cup of Mint Tea.
The interior of Ranoush, which "takes over the space long occupied by the Lebanese restaurant Saleem's, where garlic was king but, over its final years, the $1 PBR night seemed more popular." Read the rest of Ian Froeb's
review of Ranoush
.
Let's head into the kitchen...
Cooking the meats (chicken, lamb and beef) for the Ranoush Mixed Grill.
Chef Wesam Hamed preparing the hummus plate.
Chef Wesam Hamed, as he prepares kibbeh, a traditional Syrian dish of fried balls of spiced meat and burghal.
Chef Hamed rolls kibbeh balls at Ranoush.
Chef Ahmend as he's placing the kibbeh in the freezer prior to frying.
A hummus plate at Ranoush.
Chock-full of seasonings and heated to serve, the Baba Ganoush of Ranoush.
The finished Ranoush Mixed Grill.
Time for dessert: Knafeh, Ranoush's signature dessert. A hybrid of baklava and cheesecake – sweet soft cheese sandwiched between layer's of bird's nest phyllo topped with pistachio nuts.
Traditional and tasty, baklava at Ranoush.
Now, to enjoy the meal with Ranoush owner Aboud Alhamid.