Back of the House: Winslow's in U. City
The kitchen doesn't rush, but St. Louis has been waiting for these sorts of restaurants long enough. What's a few more minutes? Read Ian Froeb's review,
"Winslow's Home Run."
All photos by
Jennifer Silverberg
.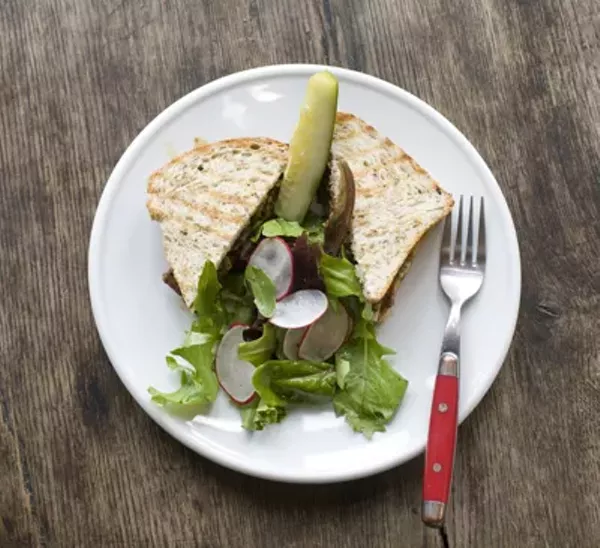 Brisket on rye with horseradish mayonnaise.
Kitchen manager Stephen Kovac.
Radishes fresh from Winslow's farm, located in Augusta, Missouri, which is about 35 miles west of St. Louis.
Winslow's manager Mark Thompson.
Inside the Winslow's shop.
The interior of Winslow's Farm & Home, which bills itself as a "new American general store."
More products available for purchase at Winslow's.
Rosalyn A. Young, who owns a neighboring craniosacral therapy business, is a regular at Winslow's.
The exterior of Winslow's Farm & Home.
More deserts at Winslow's; these are the chocolate mocha mini-pies.
Apples, cored and peeled.
Beautiful, fresh ingredients.
More produce from the farm, which is "chemical-free" say its farmers.
Pie crusts in the kitchen at Winslow's.
Winslow's chocolate chip cookies.
More products available for purchase at Winslow's, which is located about a half-mile west of the Delmar Loop.
Cookbooks to peruse -- and buy -- while waiting for your meal.
Cards sold at the shop, located at 7213 Delmar Boulevard in University City.
Rolling pins for sale among many other kitchen items at Winslow's.
Folks enjoying a leisurely Saturday afternoon lunch.
Doves hang from the ceiling.