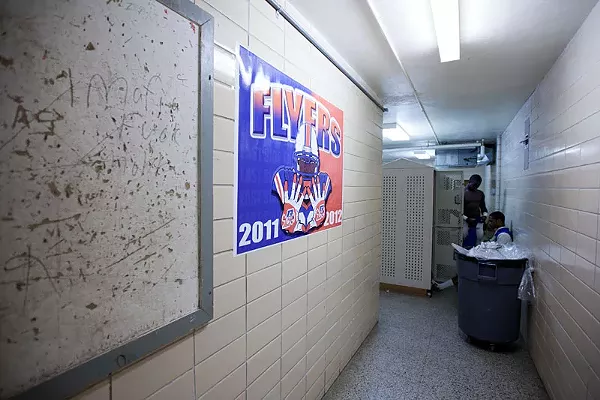 Jennifer Silverberg
In the tense moments before the opening post season game, the only sounds in the locker room are cleats clicking the linoleum floor and the squish shoulder pads make when arms move.
Jennifer Silverberg
Senior quarterback Lamontiez Ivy, one of the best college prospects in the region, led the Flyers to a 9-3 season and another conference championship.
Jennifer Silverberg
Defensive coordinator Marion Stallings, a former Flyer standout himself, has worked under ever East Side head coach since the mid '70s.
East Side's demographics make it an outlier in its conference. The school, like the city, is 99 percent black; no other school in the eight-team Southwestern Conference is less than 55 percent white.
Jennifer Silverberg
At East Side there are half as many seniors as freshmen. The pull of the streets is the school's -- and the Flyers' -- top competition. When you're living with a sputtering infrastructure, vast poverty and ubiquitous crime, there's little incentive to put in fifteen hours of football practice each week and keep your grades high enough to maintain athletic eligibility.
Jennifer Silverberg
Since 1897, the Flyers have won more games than any team in the country, compiling a record of 877-252-45.
Jennifer Silverberg
Stallings is famous for his passionate pre-game speeches. He is the fire to Sunkett's ice.
Jennifer Silverberg
Back in the in the '70s and '80s, close to a hundred kids came out for football each season. But things have changed. Nowadays Sunkett is lucky if he can field a 40-man varsity squad.
Jennifer Silverberg
Game faces all around as the Flyers head onto the field for their first round playoff game against the Granite City Warriors.
Jennifer Silverberg
In May the state took over School District 189 for the second time in twenty years, citing newspaper reports of patronage on the part of school-board members and the fact that only 9 percent of the high school's students meet state academic requirements.
Jennifer Silverberg
Senior quarterback Lamontiez Ivy has drawn interest from Division I programs like Indiana, Kentucky and Illinois.
Jennifer Silverberg
"Growing up down here in this city, outside of school we're always dealing with something in our family or whatever" said Jeremy Nicholson, senior running back and team co-captain. "We rely on sports to get us through. Get us through everything."
Jennifer Silverberg
When you're sprinting and hitting inside Clyde C. Jordan, the streets seem distant. The stadium is big and pristine, with brightly painted walls and well-tended turf, an oasis plunked down amidst a battered, crumbling landscape. The Oklahoma drills and summer conditioning sessions are grueling. But they're far easier than the empty stretches of time between practices.
Jennifer Silverberg
In the early twentieth century, East St. Louis was a burgeoning industrial hub. Then shipping routes shifted and companies followed, leaving behind chemical brownfields and the shells of antiquated buildings. Whites and working-class blacks left , usually headed for more promising nearby towns such as Belleville and Fairview Heights. Recent census figures show that 99 percent of East St. Louis residents are African American.
Jennifer Silverberg
The Flyers began the season as the top-ranked team in the Associated Press Illinois High School Football Class 7A poll.
Jennifer Silverberg
Darren Sunkett is the only active high school football coach to have won a state championship in both Illinois and Missouri. After taking the reins at East St. Louis in 2000, he pulled a moribund program out of a half-decade of disappointment and hauled it back to national prominence, bringing the school its first state title in seventeen years in 2008. But much controversy has accompanied the success.
Jennifer Silverberg
East Side athletic director Leonard Manley is known for his eye-catching attire on game days.
Jennifer Silverberg
"They're fast, they're athletic, and they're aggressive," said Brandon Joggerst, head coach of O'Fallon Township High School, who tied East St. Louis at the top of the Southwestern Conference. "It's hard to simulate that speed in practice. I think that's what teams struggle with a lot, is you can't have a scout team portray that look that they give you on a Friday night."
Jennifer Silverberg
Sunkett's competitive fire has rubbed some opposing coaches and fans the wrong way. "He's cocky," says Manley. "He believes that you can't beat him, you're not gon' beat him, and if you beat him he's pissed off about it."
Jennifer Silverberg
Nicholson and sophomore running back Natereace Strong formed an imposing backfield duo that fueled the offense.
Jennifer Silverberg
Those players who go all-in with the Flyers submit to hard discipline and a daily grind. But at the end of the four years, a path out of town opens up. Fifteen of the seventeen seniors on last year's squad enrolled in college -- some to continue with football, some solely to continue their education.
Jennifer Silverberg
The St. Louis Post-Dispatch tabbed Ivy as the eighth best recruit in the greater metropolitan area. Rivals.com, one of the top authorities on college sports recruiting, ranked him as the 23rd best recruit in Illinois.
Jennifer Silverberg
Senior DeMarcus Lee shows what an offensive lineman's helmet should look like by October.
Jennifer Silverberg
Sunkett-coached squads have reached the Illinois state playoffs in each of his twelve years at the helm, compiling a record of 111-28 and winning seven conference titles, including the past five in a row.
Jennifer Silverberg
Sunkett and his staff know that football is the motor that drives many of the kids past the potholes on the street and the drug dealers on the corner and the dropouts on the stoops, toward a life that seems otherwise unthinkable for a young man growing up in East St. Louis.
Jennifer Silverberg
The Flyers' defense was one of the best in the state, allowing an average of less than thirteen points per game.
Jennifer Silverberg
"Football is definitely the lifeline here," said Sunkett. "It's something this community has always been able to hang its hat on. It's always been a winner."
Jennifer Silverberg
East St. Louis Senior High's enrollment is dwarfed by that of its competition. Belleville East, the largest school in the Southwestern Conference, has 72 percent more students than East Side's 1,564. Granite City, the conference's second-smallest school, out-mans East St. Louis by 23 percent. The Flyers are at the lower end of the state's Class 6A division, but the team always petitions to play in the more competitive Class 7A.
Jennifer Silverberg
Nicholson slides into the end zone for one of the Flyers' five touchdowns on the day.
Jennifer Silverberg
Flyers fans nicknamed Sunkett "The Mastermind" for his brilliant play-calling and high-powered offenses.
Jennifer Silverberg
A familiar sight at Clyde C. Jordan Memorial Stadium.
Jennifer Silverberg
The Flyers would go on to beat Oswego High School 41-0 in the second round, before falling to to two-time defending 7A champion Wheaton Warrenville South 7-10 in the quarter finals.
Jennifer Silverberg
"Coach Sunk helps me 'cause he presses me," said junior wide receiver Bobby Moore (center, with the flat-top). "That tells me he really cares about me, and he wants to see me change. He wouldn't be doing all that if he didn't care. I thought he might give up on me one day, but he hasn't given up."
Jennifer Silverberg
Just as his players come to understand that Sunkett expects them to make those difficult catches or blocks or throws or tackles, they absorb the corollary -- that he expects them to apply the same work ethic and confidence off the football field, and to achieve the same results.