November 04, 2012 Slideshows
Face Tats Explained at Old School Tattoo Expo
Photographer
Jason Stoff
brings back these images from the 2012 St. Louis Old School Tattoo Expo, held November 2 through 4, 2012 at the Ramada Plaza Hotel. Stoff sought out out the most conspicuous of tattoos, those on the head and face. As it turned out, the owners of most were tattoo artists themselves -- and all said it wasn't something they considered lightly. They didn't get their faces tattooed first, or even early-on; it was universally something that they'd eased into. Additionally, they all acknowledged that they didn't get facial tattoos until they'd realized they weren't ever going to be working a "standard" job.
See Also:
-
More 2012 Old School Tattoo Expo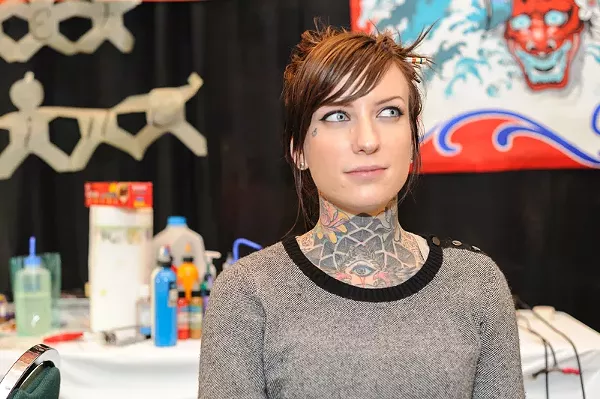 "I'd already done my hands and my neck, so I was going to be visibly tattooed anyway. The face seemed natural then."
"The face is the new neck."
"I promised my mom I wouldn't get any more on the face."
"When neck tattoos became trendy, we kind of moved on to the face... The guy I know who's got the most facial tattoos is actually a welder, not a tattoo artist... I think it's more socially acceptable now. A little more extreme, yes, but you're not treated badly for having tattoos on your face."
"It's something I, as a tattoo artist, won't let first-timers do. Tattoo artists who are worth their salt are more responsible than that."
"It's about being more extreme. The sensation."