January 07, 2014 Slideshows
John Perkins' Juniper Does Dixie Cuisine Proud
To call Juniper cozy is an understatement. The interior looks as if Brooklyn hipsters rehabbed a barn in Kentucky bluegrass country. Exposed brick, lofted ceilings and built-in bookshelves set an inviting scene while vintage refrigerators and centerpieces of cotton blossoms and juniper sprigs add a touch of whimsy. It's the kind of place that necessitates craft cocktails and smoked meat, both of which are in abundant supply.
Keep reading:
Cheryl Baehr's review of Juniper
.
Photos by Jennifer Silverberg for the
Riverfront Times
.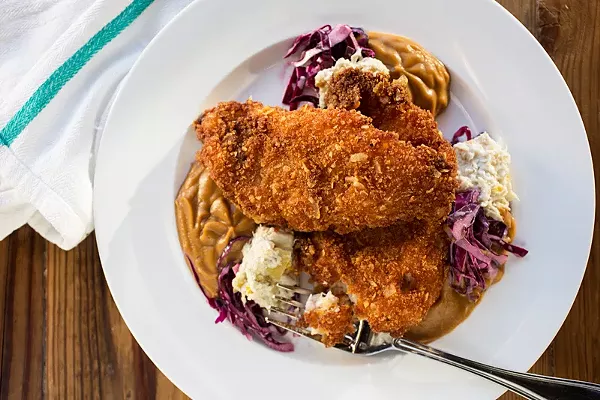 The catfish entree comes encrusted with Zapp's potato chips and is served with sweet potato and red cabbage slaw.
The shrimp and grits entree.
One of the "Snackies": shrimp toast, pickles and garlic butter.
Juniper's pork and beans.
Juniper's chicken & waffles come with pickles, syrup and peanut butter.
Barkeep Joe Duepner making "The Pentecostal."
Juniper's full breadbasket comes with biscuits including buttermilk and angel, cornbread, hushpuppies and popovers, and they're served with seasonal jams and butters.
From the "Potted & Cured" section of the menu, the "Country Ham Flight."
Juniper's Christopher Walken.
Juniper's chef de cuisine, Ryan McDonald, prepares an order of shrimp and grits.
Juniper's owner and executive chef, John Perkins.