August 17, 2010 Slideshows
Keep On Rolling: Sushi Ai
Sushi Ai opened this spring in the strip mall at the intersection of Dorsett and McKelvey roads, just west of Interstate 270. Its appearance is essentially the same as every other strip-mall sushi joint in America, from the neon Sapporo sign in the front window to the glossy picture-menu on each table. Though only a few months old, Sushi Ai has a lived-in, if not secondhand, vibe: The restaurant feels as if it has been here for years.
Click here to read more from Ian Froeb's reviews of Sushi Ai
. Photos by
Jennifer Silverberg
.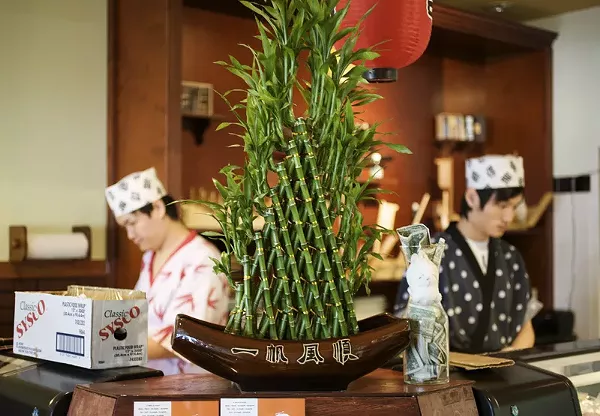 On left, one of the owners, Zhen Sun and on right, Sushi chef, Qi Don who is a cousin of the owners.
The welcoming cat, Maneki Neko, on the front counter of the restaurant.
Sushi chef Qi Dong at work while his cousin, and one of the owners of the restaurant, Jake Dong is working at the other counter behind the sushi bar.
Sushi Ai, on Dorsett Road in Maryland Heights, has been open for almost four months.
Tuna and salmon ready for slicing.
Sushi Chef Qi Dong making a roll with the typical bamboo mat.
Qi Dong, after having rolled the Green Dragon Roll, continues to build the plate.
One of the owners, Jake Dong plating at the sushi bar.
The Green Dragon Roll is eel, cucumber and avocado topped with masago and tepura flakes.
A closer shot of the Green Dragon Roll, which is eel, cucumber and avocado topped with masago and tepura flakes.
The Gyoza appetizer is a Japanese style pan-fried pot sticker made with pork.
A Sashimi plate that included salmon, tuna, squid, shrimp, crab and red snapper is ordered a la carte.
The Tempura Ice Cream, or fried ice cream, comes with your choice of green tea, strawberry or vanilla ice cream.
The owners and staff sit down for lunch after the customers have gone.
The mascot, retired for the day.
Sushi Ai interior. Sushi Ai is owned by the same family owns Panda Chinese Restaurants in the area. Jake Dong, one of the owners, wanted to do a Japanese restaurant. He has always loved how artful the food is and when it came time to expand the family business, this is the direction he chose.
On left is sushi chef Qi Dong, on right is his cousin and one of the owners of Sushi Ai, Jake Dong.