February 01, 2015 Slideshows
Maplewood Sweet Tooth Tour
On Saturday, January 31, 14 Maplewood businesses held their 2nd annual Sweet Tooth tour. This self-guided tour included a variety of sweets -- from chocolate tea and cake to pie and even more chocolate. Tour-goers' winter sweet-tooth cravings were completely satisfied. Photos by Caroline Yoo.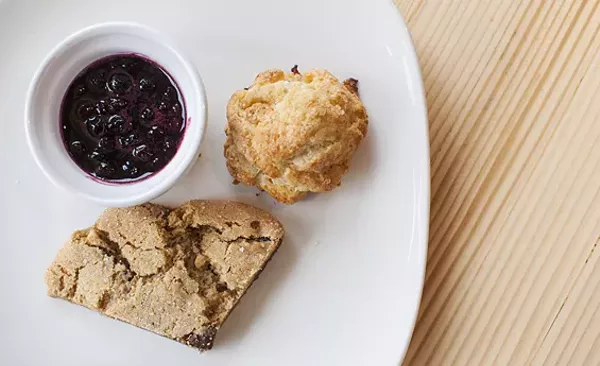 Living Room's gluten-free peanut butter chocolate chip cookie, traditional English scone, and handmade blueberry jam.
Maplewood Sweet Tooth Tour ticket.
Francie Valenta, owner and cake designer at Encore Baking Company, made the almond-white cake cupcakes frosted with buttercream just for the Maplewood Sweet Tooth tour.
Jackie and Shonté hold up their Sweet Tooth Tour tickets.
Larder and Cupboard gave away a dessert called "Cherry Divinity" created by the St. Louis restaurant Juniper.
Laurel, Jenna with her infant daughter Lydia and Shantanu.
A sweet red wine, Vinchio-Vaglio Serra La Passione Grand Dessert, and a mini red-velvet cupcake with vanilla dream buttercream was served at Vom Fass.
Ryan and Nicole stop for a quick photo.
Lisa, Caroline, Natalie, and Nasi smile for a photo after Caroline and Natalie had finished grabbing Strange Donuts' treat.
Strange Donuts' Strange Sprinkle Donut.
An employee at the Book House Inc. writes "Sweet Tooth Stop Inside" on the window.
Mystic Valley was serving a cannoli with chocolate chips that was dipped in white chocolate before it was sprinkled with purple granulated sugar. They called it the "Mystic Cannoli."
Kakao Chocolate Chip Cookie Marshmallow Pie at Kakao Chocolate.
Foundation Grounds' Molasses Cookie.
Susie, Marcie, Grace and Peggy.
Penzeys Spices did something a little bit different than all the other businesses participating in the tour. It gave out little jars of cinnamon sugar.
The Buzz Buzz Coffee Chocolate Brownie at La Cosecha Coffee Roasters.
Mike and Kerry Borawski smile in front of Pie Oh My! after grabbing a bite of their traditional apple pie.
Kasia, Jacob, and Christina.
Schlafly Bottleworks offered a sample of their Sticky Toffee Pudding which is a Scottish dessert that they serve at both restaurants.
Schlafly Bottleworks gave away samples of their Oatmeal Stout to accompany their Sticky Toffee Pudding.
The back of each Maplewood Sweet Tooth Tour ticket included a checklist of the participating.