January 31, 2015 Slideshows
Mardi Gras Wine, Beer and Whiskey Taste 2015
On Friday, Jan. 30, patrons had the opportunity to sample more than 50 different wines, beers and whiskeys from around the nation. The event also included catering from Pappy's Smoke House, Sugarfire Smoke House, Bogarts and Salt + Smoke. Photos by Micah Usher for the Riverfront Times.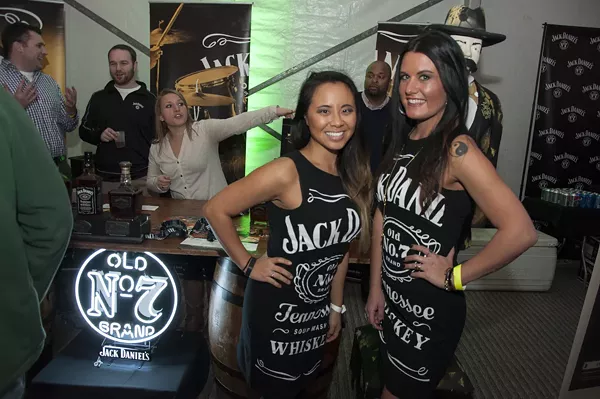 The lovely Jennifer Shinn and Larissa Brockmeyer working the Jack Daniels booth.
Dillon Lee of Salt + Smoke serving smoked wings in a BBQ horseradish aioli. Super tender and well balanced, the wings were almost falling off the bone.
Beau & Terri came totally decked out in beads for this pre-Mardi Gras event.
Chocolate Truffle Bourbon Balls from Sugar Fire Pie.
Triple smoked bacon wrapped pork belly in a Jack Daniels #7 glaze and smoked again from Sugarfire Smokehouse.
The place was packed with people going from wine to beer to whiskey tasting station. They say don't mix beer before liquor but it's ok if you drink them all at the same time, right?
Cranberry Cayenne Wings from Bogarts smokehouse being flame charred to perfection. Slightly sweet and spicy.
Chuck Rebeck pouring an Oculto beer - brewed with blue agave and blended with beer-aged in tequila barrels.
James Perry enjoying the triple smoked Bacon wrapped pork belly or "bacon wrapped bacon."
Tim Lorson presenting Chris Fletcher master distiller from Jack Daniels and announcing that there was a single Jack Daniels barrel that was selected and bottled for this St. louis Mardi Gras kickoff event.
Eddie Holmann pouring a tasty beverage of Jack Daniels Rested Tennessee Rye.
Seamus Ferguson and Gina Borelli: One larger than life and in a kilt; the other holding a larger than life bottle of Jack Daniels. If only bottles of whiskey came in that size.
Amber Schanter, Tamarah Schanter and Cassandra Bates trying wine and whiskey at the same time. Rule breakers.
Angie Brady of Sugar Fire Smokehouse with her bottle of Jack Daniels single barrel bourbon.
Laurie Waterhouse getting creative with paint and a brush.
Paul Fratellone and Aziz Karagac and their new friend Jack Daniels Single Barrel.
Katie Knott of Peaceful Blend Brewery.
Stephanie Sherwood, Renee Howard and Angie Davenport break from dancing for a second.
Casey from Sugarfire Smokehouse showing its trophies some love.
Emily, Tyler, Taylor and Travis about to have a tasty shot.
TJ & Barthollmew roaming around with their beers and enjoying the night.
Michelle Haven and Cathy Wollf hop in to support Patrick McDonnell of Coastal Vibes Winery and point out their tasty vino.
Taylor Stipes (foreground) Justin Stipes, and most excellent photo bomber Bryant Lyles.
Rebecca Seabaudh being surprised by her friend Jaime Price in a masquerade mask. Turning around to that equals the stuff nightmares are made of.
Special Single Barrel Jack Daniels bottle specially selected for this event and stl mardi gras. Bottles were selling for $50 a piece and it was smoother than the glass it came in.
Chris Fletcher, Jack Daniels brewmaster, and Ashley Weber show off their sweet bottle of single barrel while giving out tastes.
Hey Jack, are you ready for your close up?
Billy Tomber, Brian Portell and Markus Rolf under the big top.