March 01, 2010 Slideshows
Mixed Breed Art Auction at Schlafly Bottleworks
More than 20 area artists auctioned off their works to benefit Gateway Pet Guardians on February 28, 2010 at Schlafly Bottleworks. And thankfully, there's not a single homage to dogs playing poker. By
Crystal Rolfe
.
Stephanie Schaeffer with "Bomber."
Steve Simmons with "Wagon Along."
Lorrie Austin with "Bomber."
Bauer and the Rev. Marcus of Strawfoot.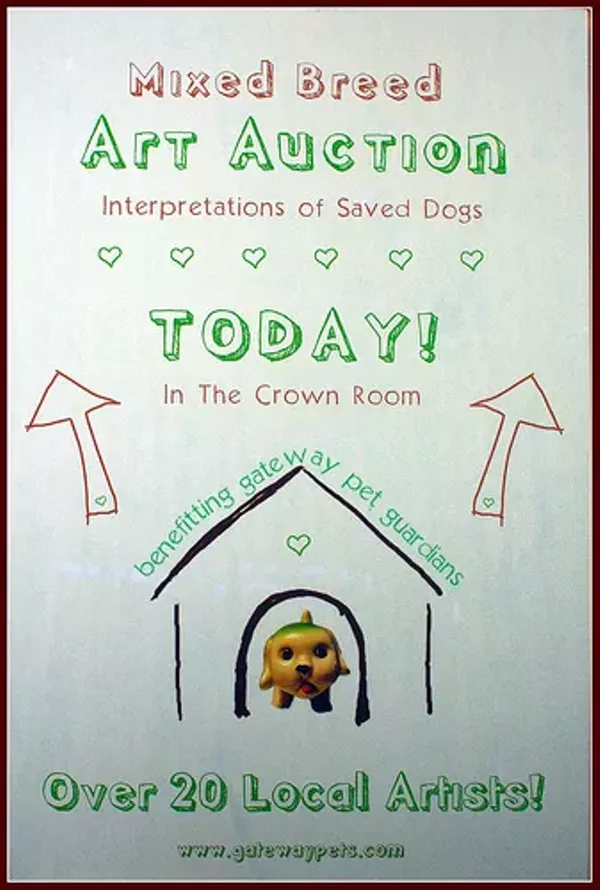 The auction was held at the Schlafly Bottleworks in Maplewood.
Greg Lorton, with "River Dog."
Sonny is one of the dogs available for adoption through Gateway Pet Guardians. The photo of Sonny is by David Carlyon.
Wesley Jones of Strawfoot.
Heather Haymart's "Hank."
Arlene Lori's "Good Sit" bronze sculpture.
Jamie Case with "Rescued / Waiting."
Jennifer Neimann of Strawfoot.
Amie Simmons and "Give Shelter, Give Love."
Arlene Ligori with "Barney."
Elizabeth Schaefer with "Stray," a silkscreen.
"Good Things Come to Those Who Wait" by Mary Beth Shaw.
To benefit the rescue group, various businesses and private individuals donated items to later be raffled off.
Paula Rosmanitz shows off her work, "Best Buds."
Jamie Case's "You Were Mine to Rescue."