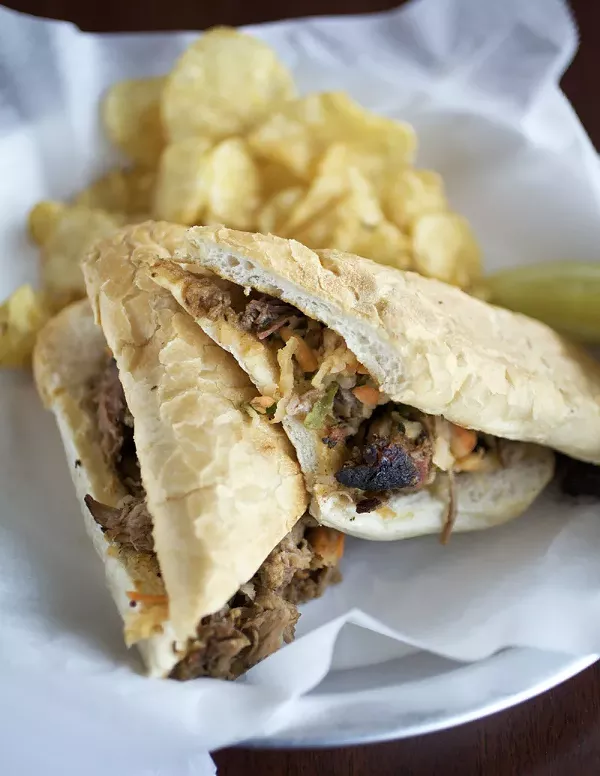 A new menu item, The Jerk, is a Jamaican Jerk pulled pork sandwich with Carribbean BBQ sauce and apple jicama slaw.
The Tamm Avenue Turkey is smoked turkey, honey mustard, cheddar cheese, tomato and bacon.
Nora's is not just a lunch spot. For breakfast you can order a sausage, egg and cheese bagel with a cappuccino brewed with Kaldi's coffee.
The Hemp Garden Salad is made with a Sring mix, tomatoes, carrots, red onions, black olives, smoked portabella mushrooms and the dressing is the locally owned, Greg's Hemp Oil vinaigrette.
The Cold Turkey Sandwich, here shown on the gluten free bread from Free Range Cookies Bakery of Florrissant, MO, is offered at Nora's for any sandwich. The Cold Turkey is prepared with smoked turkey, avocado, sprouts, cream cheese and tomatoes.
Owner Rob Quiason in the kitchen at Nora's.
Nora's interior, a little dark and moody.
Nora's interior, a little dark and moody.
Owner Rob Quiason, named the restaurant after his mom, Nora. Kinda sweet, huh?
Nora's humble exterior on Tamm Avenue in Dogtown.