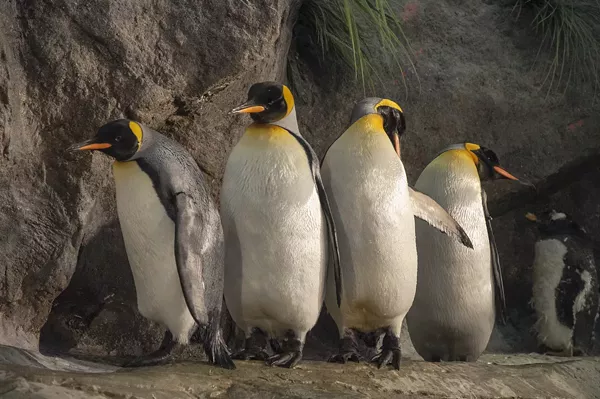 King penguins making themselves at home on the rocks.
King penguins strutting their stuff.
Penguins checking out the crowd.
Looking a penguin right in the eye.
A king penguin letting off some steam.
A penguin defending his territory.
King penguins showing off their best colors.
The penguins walk it off.
The penguins did some laps, but spent most of their time by the crowd barrier.
A penguin trying to get a better look at the sign.
A penguin gracefully trying to keep his balance.
Penguins meandering by the crowd barrier.
Gel and Don Lang enjoying the penguin parade.
Kevin and Mason Wessler in front of the newly renovated Penguin & Puffin Coast at the Saint Louis Zoo.
JoJo and Josh wearing their penguin best
A group of kids can't wait to rush into the new penguin habitat.
A rockhopper penguin in the new exhibit
A child admiring a king penguin's swimming form.
Roy and Drew checking out the puffins.
A king eider in the puffin exhibit.
Andrew and Deborah Mayer waited two years for the penguins to return.
Colby watching the peguins swim by.
Kids delighted to see the penguins.
Jimmy Fabiszak with a group of friends having fun at the new penguin exhibit.
Shelby Aleksick giving a thumbs up for penguins.
Amy Lagleder, Garrett Lucsko and Megan Lucsko. Garrett wore his penguin best.
Kristen and Payton Stickel visiting the penguins in their new habitat.
Penguins go for a stroll in the snow.