February 05, 2009 Slideshows
RFT vs. Alive Magazine Debate
The merits and shortcomings of the Riverfront Times and Alive magazine were debated February 4 at Brennan's in the Central West End. For the RFT, writer Chad Garrison. Sadly, no one from Alive would debate Garrison, so Brennan's owner Kevin Brennan served as a proxy.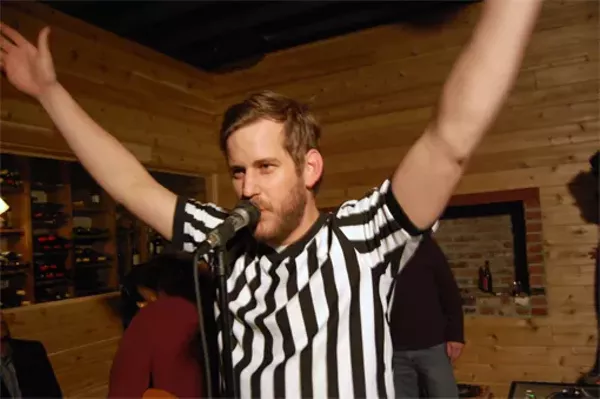 The referee gets things going at the start of the debate.
Out comes Kevin Brennan with an opening argument that complimented the appearances of Alive magazine staff, many of whom were in the audience.
Garrison makes his opening remarks, calling Alive nothing more than a vehicle for the business interests of its founders.
Garrison's closing remarks included this prop, a bizarre photo of Alive editor-in-chief, Attilio D'Agostino.
After the debaters had their chance, the referee determines a winner by audience applause.
Garrison works up the crowd!
However, Brennan seemed to use his "home court" advantage and was chosen the winner by the audience. The ref, presumably an employee of Brennan, seems to relish the moment.