August 14, 2015 Slideshows » News
Swimsuit Finals and Mankini Contest at Helen Fitzgerald's
Things got hot, hot hot at Helen's in Sunset Hills on Thursday, August 13. But it wasn't all ladies in bikinis. Click in for, oh yes, some hot mankini action as well. All photos by Micah Usher.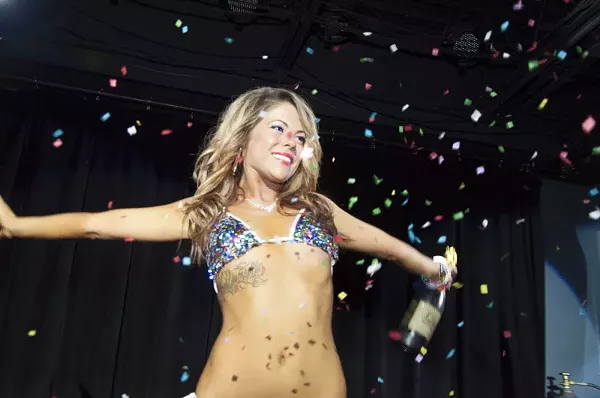 Christy pops a champagne bottle full of confetti and walks onto the stage with open arms
Christy blows glitter towards the crowd and ends up with a glittery kiss
Danielle B. blows a kiss to the crowd
Krista answers the age old question: Who would you fuck, marry or kill?
Hannah in the foreground and the other models talking after taking their turn on the catwalk
Caroline Weiss, Miles Ortego
Andrew Kuehnle, Alex Voss out to watch the show of the night.
DJMO Blvd taking a second from dropping beats.
Dana Intrieri, Vince Sorrentino
Taylor takes a turn to show off her assets
Nick Ahlemeyer, Alex Pfeil, Scott Robinson, Bryce Smith, Chris Hartanto, Matt Medcalf
David M. gives a five to the crowd
Corey walks onto the stage with open arms
Alex addresses the elephant in the room
David S. does a little dance
David M., David S., Corey, Alex, Andrew flexing in the front. Andrew took home $200 for winning the mankini contest.
Steve Heffernan breaking it down
"Fit Chick" showing her club moves
Kelly Bileddo, Carlos Thomason
Ricky and Stacey; she took home first place.
Hannah walks away from aswering her questions unsure, while the other ladies in the contest stand in line.
Christy pops a champagne bottle full of confetti and walks onto the stage as the crowd watches
Taylor, Stacy, Krista, Danielle B., Jenna, Mariah, Christy, Hannah, McKenzie, Danielle M. and Alyssa stand for a group photograph
Christy took third place, Stacy took first place, and Krista took second place in the evening for the bikini contest.