Taha'a Twisted Tiki Serves Cocktails from Paradise in the Grove
Taha'a Twisted Tiki is the latest brainchild of Lucas and Derek Gamlin, two brothers who clearly have their fingers on the pulse of the latest liquor trends. Their previous ventures, SubZero Vodka Bar and Gamlin Whiskey House, were runaway successes, and if recent chatter in industry publications is any indication, rum is poised to be the next "it" spirit. Couple this with our ironic, vintage-obsessed culture, and it's no surprise that the kitschy Polynesian tiki lounges of the 1970s are making a comeback around the country.
Keep reading:
Cheryl Baehr's review of Taha'a Twisted Tiki.
Photos by Corey Woodruff for the
Riverfront Times
.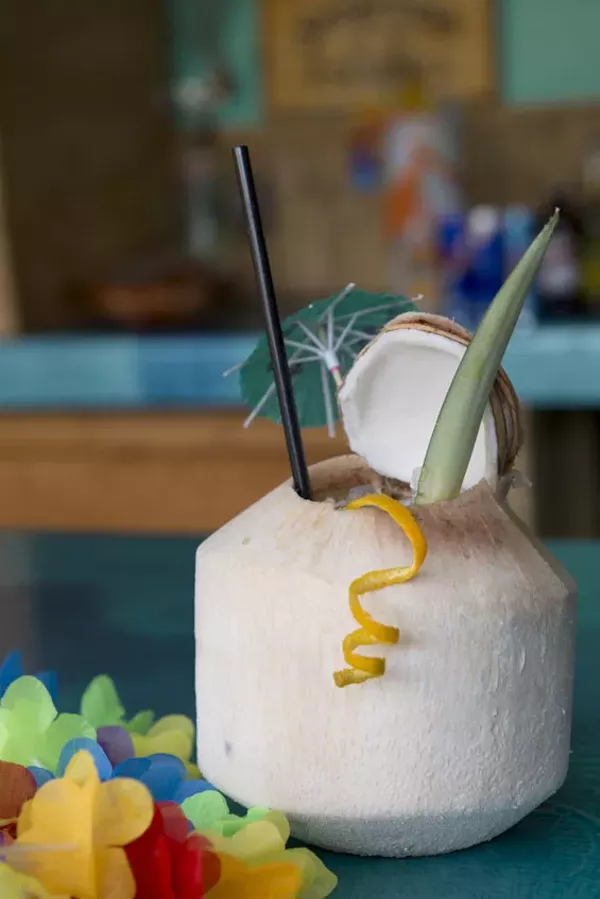 A cocktail served in a coconut.
The "Zombie," served inside a shark's head.
A fruit-filled cocktail at Taha'a.
An outside bar at Taha'a.
The outside seating area.
A summery cocktail and a variety of skewers.
The "Big Island Sliders" and a basket of Taha'a chicken wings.
The grilled chicken taco, fish taco and a side of edamame hummus.