April 20, 2015 Slideshows
The Denver High Times Cannabis Cup
The Cannabis Cup took place from April 18 through 20 in Denver, Colorado. It's a trade show for all things weed, complete with celebs, workshops and plenty of places to buy. Photographer Charles Thomas was there.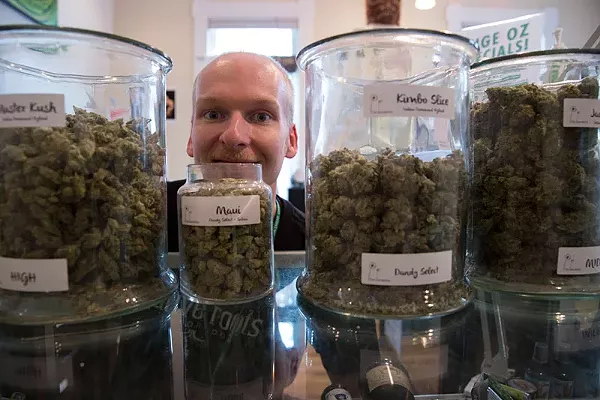 A budtender poses with jars of marijuana.
Sampling THC oil at the Passionate Hash Oil stand.
Browsing selections on a touchscreen at Native Roots medicinal/recreational dispensary.
Cola top buds showcase Black Dog LED grow lights.
The Cannabis Cup Award at the Exogenetix stand.
Marijuana-infused personal lubricant.
Industrial hemp plants from GrowHempColorado.com.
A festivalgoes takes it in, lets it out.
Former Miss High Times girls promote Cannabis Network Radio.
A display case of hash oil at the Dandelion medical dispensary..
Attendees put their heads together.
The edibles display case at Dandelion.
A High Times volunteer poses for a pic.