April 27, 2015 Slideshows
The Kiss & Tells at the Duck Room
This Kiss & Tells mix the comic with the coquettish in the burlesque troupe's new show, "KT Correctional: The Sexy Slammer," which took place over the weekend at Blueberry Hill's Duck Room. Photographer Steve Truesdesll captured the best bits.
Astra's striking profile.
This jail looks pretty great, actually.
New inmates Ginger, AJ and Sophie work out their issues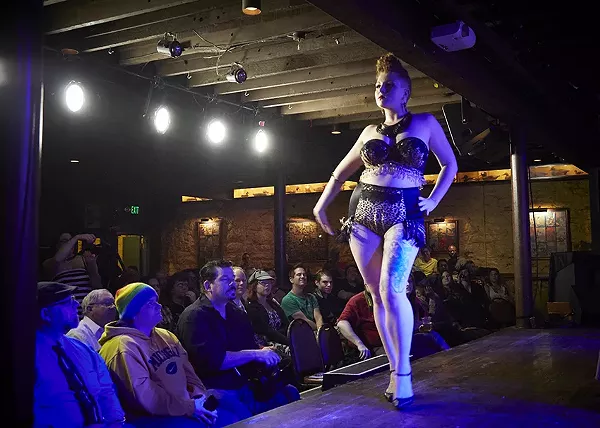 Guest inmate, SinDee Hoo Hoo, throws back some blood.
Bending over backward to the crowd's delight.
The cross-dressing warden performs "Dude Looks Like a Lady."
Bryce Bordello as the cross-dressing warden.
Ginger does not have time for this.
Astra gives it to Ginger with the club.
Ginger seems fine with this "punishment."
Ms. Doe, played by Bambi, shows the inmates her stuff.
Phoenyx, a world-class burglar, breaks into the Warden's office to get the evidence of wrongdoing.
The inmates with Officer Bettie.
Officer Bettie, blind to justice?
Officer Bettie comes out for the inmates.
Inmates get down to -- what else? -- "Jailhouse Rock."
Ginger overhears the warden's plan.
The Warden comes out as a man.
SinDee Hoo Hoo enjoying herself.