September 29, 2009 Slideshows
St. Louis Rams as Waiters
No that's not a punchline. The St. Louis Rams and their cheerleaders were servers for a fundraiser for the Make-A-Wish Foundation of Missouri on September 28, 2009. Despite having the NFL's longest losing streak, the Rams were all smiles, for the most part.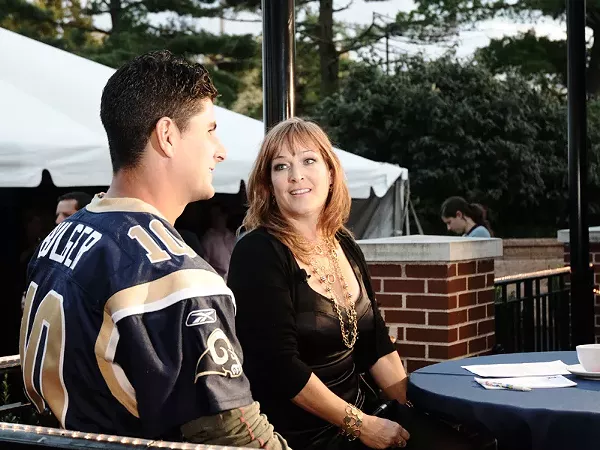 By Egan O'Keefe
Ahh, the life of an injured Rams QB: Take interviews from a bodacious TV lady while your back-ups toil in the trenches, waiting tables with towels over their shoulders. You go, Marc Bulger.
By Egan O'Keefe
Obligatory Rams babe photo. Plenty more near the end of this slideshow.
By Egan O'Keefe
As Rams fans have always suspected, running back Steven Jackson is a real cut-up in the workplace.
By Egan O'Keefe
Jason Smith tells a family about tonight's specials, and you better tip him, or he's going in the parking lot and flipping over your car.
By Egan O'Keefe
New Rams right tackle Jason Smith is not (bleeping) happy about working this double shift.
By Egan O'Keefe
Hey Brett Favre, take your Hoosier-ass Wranglers and keep 'em. James Laurinaitis will rock some 7 For All Mankind jeans, thank you.
By Egan O'Keefe
Backup quarterback Keith Null argues with a customer about the check -- "Uh yes ma'am, you did have four Long Island Iced Teas."
By Egan O'Keefe
At 6'4", 300 pounds, lineman Jacob Bell is about to eat this family of three.
By Egan O'Keefe
Backup Rams quarterback Keith Null is a zen master: able to deal with the stress and hustle of working in a restaurant with ease and grace. Good qualities for a quarterback, no?
By Egan O'Keefe
Middle linebacker James Laurinaitis rushes to table 3, apparently there was a birthday song he had to sing in a round with the rest of the linebackers.
By Egan O'Keefe
Jacob Bell, Donnie Jones and Kyle Boller (left to right), please promise us this is the last time this season you're going to wear aprons.
By Egan O'Keefe
Despite a passing resemblance, this is not Rams head coach Steve Spagnuolo holding an adorable puppy. Although we kind of wish it was.
By Egan O'Keefe
Puppeh attacks!!!!111
Long snapper Chris Massey, a veteran among players, and waiters.
By Egan O'Keefe
Hey, there's new Rams quarterback Kyle Boller with former Miss California USA 2009, Carrie Prejean.
By Egan O'Keefe
The life of a Rams cheerleader isn't all sequined outfits and Sharpie markers, there's also a lot of smiling involved.
By Egan O'Keefe
Jason Brown signs one of Fleming's baked potatoes. We kid! It's a golden football, naturally.
By Egan O'Keefe
Now we know why Fleming's Steakhouse was missing a glass at the end of the night. Kyle Boller, please report to the manager.
By Egan O'Keefe
Why have a regular old football when you can have a golden football?
By Egan O'Keefe
Getting rammed: James Laurinaitis and Marc Bulger do some tag-team interviews.
By Egan O'Keefe
Will that be for smoking or non?
Click through to the next image. Then tell us what animal they are holding.
By Egan O'Keefe
Marc Bulger jerseys. And you thought one was enough. It wasn't!
The ball is nearly as big as she is.
By Egan O'Keefe
This family came from Allentown, Pennsylvania and still had room to pack a helmet a few Rams ties.