Taste of Maplewood, 5/30/09
Where could you drink a "Maplewoody," eat a burger made with 30 percent bacon, gorge on scorching nachos and guzzle a pint a hefeweizen? The Taste of Maplewood.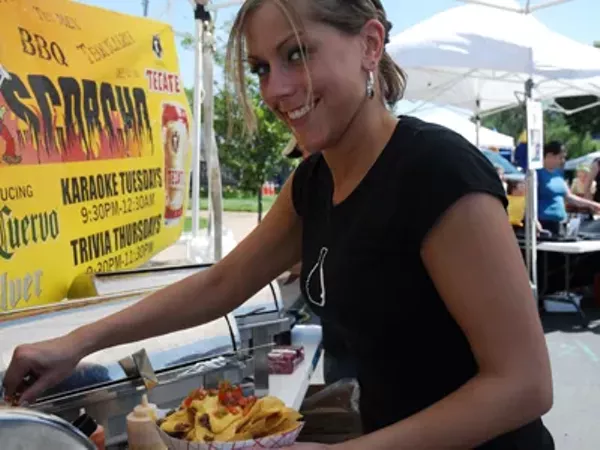 By Egan O'Keefe
Nicole Flentge, Manager of
El Scorcho
, choose nachos, simply enough, because "they are cheesy and delicious."
By Egan O'Keefe
Monarch
owner Bobby Jones chowing down on his own Bacon Slider made of 70 percent ground beef and 30 percent ground-up bacon.
By Egan O'Keefe
When asked why he likes it he said simply: "It's yummy. And who doesn't love bacon?"
By Egan O'Keefe
Ben Girard,
Deluxe
Sous Chef cooking up gyros, falafel and pulled pork sandwiches.
By Egan O'Keefe
Maravelle Café
owners Jennifer and Tom Vogel take a break to eat their own tomato and watermelon salad with feta cheese. "It's refreshing for a hot summer day."
By Egan O'Keefe
Boogaloo
chef Harry Erhard about to eat his jambalaya. He likes the rice entree because "you need a little love to make it good." Who are we to argue?
By Egan O'Keefe
CooperElla
café & coffee house, with owner Steve Sanders and manager Mia Snell, boasting the Turkey Pesto Wrap with the unexpected ingredient of cranberries.
By Egan O'Keefe
El Scorcho
owner Mark Lucas pours the three cheese blend onto an order of nachos.
By Egan O'Keefe
Norman Keller chose the
Schlafly
Kolsch because "it cleanses the palette and refreshes the body." He described it as fresh and summery.
By Egan O'Keefe
Maya Café's
bartender, Tripp Venneman, models the Sangria made completely of fresh squeezed ingredients. You might also try the Maplewoody, originated and only served at the Maya Cafe.
By Egan O'Keefe
Out behind the
Maya Café
, guests can eat on the deck of a 1944 model fishing boat that was used as recently as 2000.
By Egan O'Keefe
At the
Schlafly
truck, Chad Lowry prefers the Hefeweizen because he enjoys the unfiltered wheat
By Egan O'Keefe
Foundation Grounds
owner Pedro Abbate touted Goshen coffee because it's "100 percent organic and fair trade."