March 29, 2013 Slideshows
2013 Iron Fork at the Union Station Hotel
The 2013 edition of Iron Fork went down on Thursday, March 28, 2013 at the Union Station Hotel: A DoubleTree by Hilton, with food from more than 35 restaurants, drinks and more.

Photos by Jon Gitchoff for the Riverfront Times.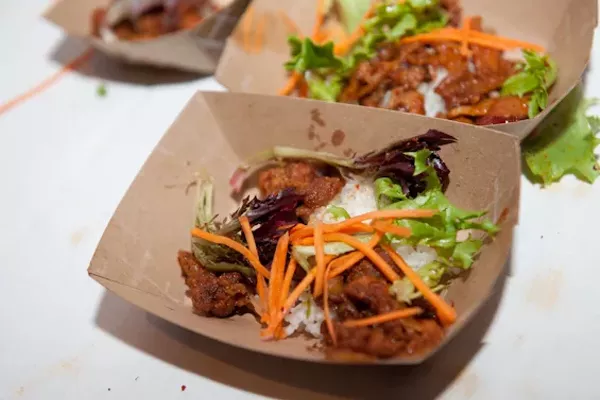 Gogi bowl spicy pork from the Seoul Taco food truck.
A sampling of ribs and a slider from The Shaved Duck.
Curried sweet potato mini taco from the Cha Cha Chow food truck.
A sampling of sauces from Chop Shop.
A sampling of ribs from PM BBQ.
One of the samples from Salume Beddu available at Iron Fork.
Sample dish from the Tavern Kitchen and Bar.
Tasty treats from The Cup.
Cleveland Heath's sample dish at Iron Fork.
Beef Bourguignon from Brasserie by Niche.
Catering options available from Whole Foods.
A full spread of all the samples from Mama Josephine's.
Pappy's dish from Iron Fork.
Salad wraps from Green Bean.