February 08, 2010 Slideshows
A Tour of Taste of Soulard 2010
Creole and Cajun-inspired dishes were the specialty of Taste of Soulard, the food fair that highlights the restaurants in the Soulard neighborhood, held on February 6 and 7, 2010. Photos by
Jason Stoff
.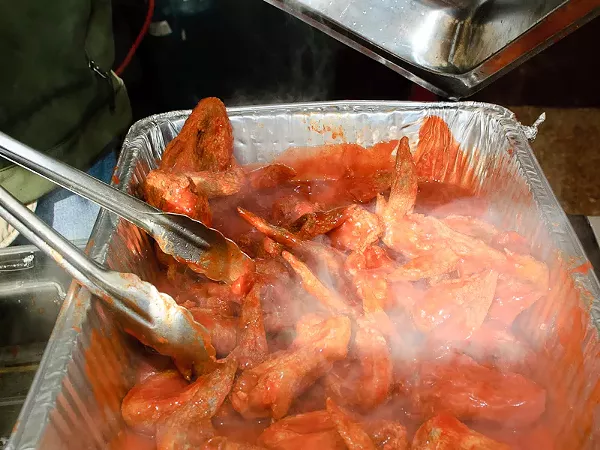 Tequila Hot Wings, Hammerstone's entry into Taste of Soulard, provided a strong dose of heat on a cold day. Hammerstone's has been fine tuning the recipe for 14 years, but its combination of hot sauce, butter and a hearty dose of tequila is hard to beat.
The Johnny's girls mingle with JT McDonald, Keenan Bailey and TJ McDonald.
Molly's chef Eric has done some food styling in his day -- this tantalizing glimpse of the BBQ Shrimp and Jalapeño Cheddar Grits show his attention to detail.
Many restaurants in and around the Soulard area were catering to the canines this weekend.
Gladstone's restaurant and bar slung a Cajun Pulled Pork Sandwich to their Taste of Soulard patrons.
Richard Gray attacks Hammerstone's Tequila Hot Wings. He came out the victor.
Cajun spice, fresh chicken and pasta make up Nadine's Taste of Soulard entry this year. Tasty? You bet.
Joanie's Pizzaria prepared a special combo for the Taste of Soulard event: a Blackened Chicken Creole Pizza. Owner and cook Joanie Thomas says it's made with a homemade Creole sauce, fresh blackened chicken and the pizzeria's famous cheese. Plus, she says there's no similar pizza in the city.
Mardi Gras for dogs? You betcha. The dog parade gives creative canines an excuse to get dressed up.
Johnny's, while known for its waitresses as much as the food, presented a special Red Beans and Rice dish for Taste of Soulard this year.
Lisa and Chris stopped by The Shanti for some Taste of Soulard delights -- and brought Mabel and Mo along for the ride.
Molly's in Soulard specializes in Creole food. Now, you may be wondering about the differences between Creole and Cajun -- to put it simply, Creole is sophisticated and urban, where Cajun is more down-home country cookin'.
Soulard locals Jennifer Leigh, Mike Fernandez and Jamie Hatfield sampled the Taste of Soulard food on Saturday.
The Taste of Soulard servings were just enough to get a good taste of the food without filling up the eater.
Molly's offered foodies an upscale place to sit down, eat and drink.
The finishing touches are put on some Creamy Cajun Mushrooms -- in this case, shredded cheese.
Eric Gordon, Rob Silverberg and Colin Flanagan are Nadine's regulars -- after sampling the Taste of Soulard food, they stayed for an evening of football.
The Shanti, a Soulard bar that usually doesn't serve food, supplied one of the only vegetarian options on the Taste of Soulard menu. Their dish? Creamy Cajun Mushrooms. Owner Teresa Parker loves to cook, and says her dish has gotten great responses.
Soulard was also host to the annual Beggin' Pet Parade this Sunday -- and many pooches were out, strutting their stuff.
Gladstone's secret recipe for their delicious pulled pork? It's hickory smoked for eleven hours, coated with a special Gladstone's rib rub and hand-pulled.
Nadine's Gin Joint & Cafe served up a Cajun Pasta dish for Taste of Soulard.
Gladstone's cooks, Mike Brench and Scott Pazulini, aim for deliciousness.
Robyn Haynes and Greg Gielow enjoy Taste of Soulard specialties at Gladstone's.
A Doberman that can blow a party whistle? Check.
Consider this: a child dressed as a dog, running through the streets. Does it strike you as odd? Not in Soulard this weekend.
Simple decor? Anything more would just be a distraction from the many flavors of Soulard.
Dogs were guests in plenty of restaurants participating in the Taste of Soulard this weekend.
Johnny's chef Chris Roth says the bar and restaurant's Red Beans and Rice is a little different than what you'd get in New Orleans. It is a lighter dish, and more soup-like. It's a dish they've been perfecting since 1993.
Michael Nicholas, Nancy Helle and Joe Helle were at Johnny's for the Taste of Soulard spread.
Entertainment wasn't limited to the dogs running the streets of Soulard. Hudson and the Hoodoo Cats played their music to tasters in a heated tent outside Joanie's.